Grab 2.99% APR¹ for the first year with rates between 13.40% and 18.00% variable APR¹ after that.
Our digital wallet-ready Platinum Mastercard® is much more than a credit card. It's a multi-tool in your pocket, emergency-fund generator, new swing set for the kids and last-minute birthday surprise for you know who. It's everything you need and it's ready whenever you are. No leather wallet required.
Kickstart your forward momentum today.
Low interest rate for
12 months
Credit limits up to
$25,000

Financial Freedom:
Credit Cards
Understanding credit cards and their power.
Think of a credit card as a multi-tool. On one hand, it's available credit when you need it for just about anything you need it for. An extra level of support, a backup plan. On the other, you can transfer higher-rate credit card balances to pay them off at a much lower rate—saving you a lot of money in the process.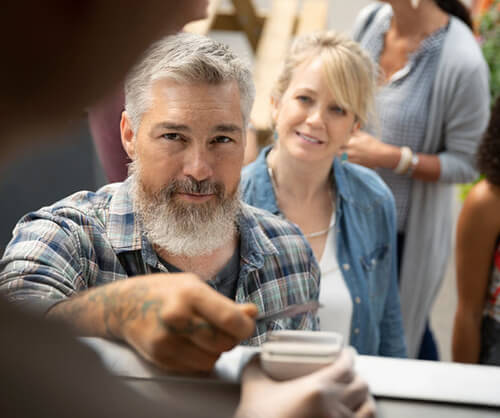 Points
I pay my card off each month. Why does an introductory offer matter?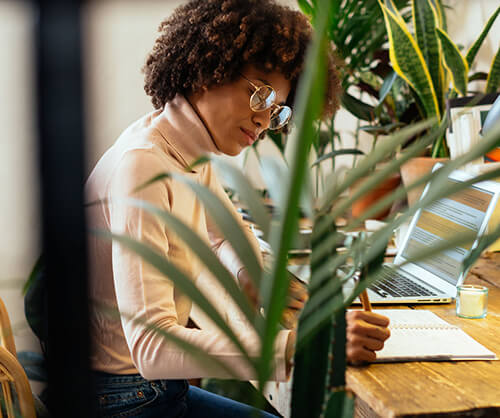 Transfer
How will transferring credit card balance(s) save me money?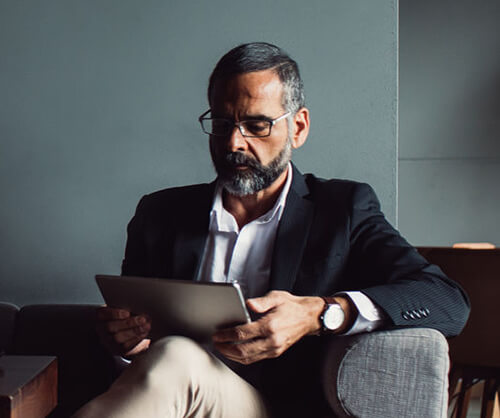 Responsibility
How will paying more than my minimum balance due each month save me money?
I pay my card off each month. Why does an introductory offer matter?
If you routinely pay off your card in full each month, consider our Platinum Rewards Mastercard® instead. Use this card for virtually everything—groceries, gas, utilities and any other bills that allow payment by credit card. Then, pay the card in full each month as you're already doing. But where you will reap enormous benefits here is by quickly accumulating points (or cash back) that you can then use to redeem for items and services you need (or want).
How will transferring credit card balance(s) save me money?
In a nutshell, credit card balance transfers work by moving a balance from a high-rate credit card over to a credit card with a lower interest rate. With credit cards like the Credit Union of New Jersey Platinum Mastercard®, this move has the potential to save you hundreds of dollars.
It's important to keep in mind that transferring a balance means you're still carrying a balance. Carrying a monthly balance (even with a low interest rate) means you need to make on-time payments of at least the minimum amount due—if not more. Consumers can take advantage of this to avoid those high-interest charges but need to be aware that the balance still remains.
How will paying more than my minimum balance due each month save me money?
In times of financial stress, paying just the minimum balance due on your card(s) can be tempting. But this practice only causes those high-interest rates to keep your balance growing and makes that minimum payment due each month increase. Instead, pay the highest amount you can afford, even if it's just $10 more than the minimum.
Although it might not feel like an immediate savings, the amount you end up saving in the long run can be massive.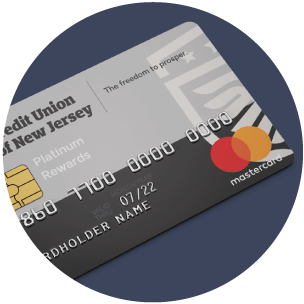 Earn cash back or rewards points for virtually anything.
If accruing rewards points or getting cash back interests you more, then our Platinum Rewards Mastercard® might be a better fit. It rewards your good spending habits with points on everyday purchases that you can redeem for valuable merchandise. If you'd rather have cash back, that works in your favor, too.
Apply today
Still unsure of which card is right for you? Check out the chart below.
Platinum
Platinum Rewards
New Account Special Offer
2.99% intro APR¹ for 12 months on purchases, balance transfers and cash advances
5,000 Bonus Points²
Reward Points
N/A
1 point for every dollar spent in purchases
Rate
Pricing & Terms
Consumer Agreement
As low as 13.40% to 18.00% APR¹ variable
As low as 14.40% to 18.00% APR¹ variable
Credit Limit
Up to $25,000
Up to $25,000
Annual Fee
$0
$0
Reward Points
Apple Pay™
Samsung Pay™
Google Pay™
Online Credit Card Controls
Credit Card Alerts
Card Locking
Emergency Card Replacement and Emergency Cash Disbursement
Travel Accident Insurance
Disclosure
Trip Interruption/ Trip Cancellation
Disclosure
The perfect card for you is just a few clicks away.
Apply today
¹
Introductory rate of 2.99% APR (Annual Percentage Rate) applies to the first 12 billing cycles and is subject to credit approval. Thereafter, APR is 13.40% to 18.00% variable, based on creditworthiness. This rate will vary with the market based on the Prime Rate. Member eligibility required. A five-dollar ($5.00) donation to the CU of NJ Foundation qualifies you for membership if you're not already eligible through an employer group. Membership deposit of $5.00 is required at all times in Main Share Savings Account.
²
Subject to credit approval. 5,000 bonus points are received after account opening.