Fund Your Renovations with Our Home Equity Line of Credit.
It's time to turn your current home into the home you always wanted with our Home Equity Line of Credit.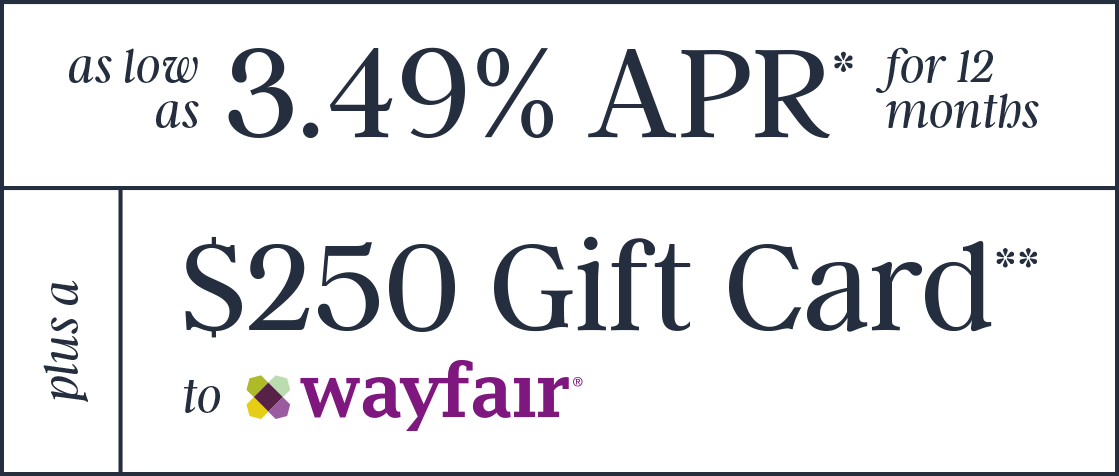 Get a competitive APR as low as 3.49%* for the first 12 months, plus a bonus $250 gift card to Wayfair** for an extra touch of something special.
Here's how our Home Equity Line of Credit works:
Loan amounts from $10,000 to $500,000 are available.
You can borrow up to 90% of your home's value (minus your mortgage and any liens).
After the first 12 months, your rate will be variable.
We also offer fixed-term Home Equity Loans if you're more comfortable paying a fixed amount every month over a specific number of years.
Apply Today
Not a homeowner yet? Upsizing? Downsizing?
Regardless of your life stage, we also offer first mortgages with a range of rate and term combinations to get you moved in ... or moving on. Our 24-Hour Mortgage Center can help you determine how much you can afford and then get you pre-approved.
or call our Real Estate Center at 800.880.0785.
*
APR = Annual Percentage Rate. Home Equity Line of Credit introductory rate of 3.49% APR is fixed for the first 12 months from account opening. After that, rate is as low as 5.99% APR based on your creditworthiness. This is a variable APR and will be indexed to the Prime Rate as published in the Wall Street Journal. As of 3/20/2019, the Prime Rate is 5.50%. The maximum combined loan to value for all liens is 90%. The maximum line amount for this offer is $500,000 based on loan to value. Payments based on a 15-year repayment period. This offer is limited to new lines only for owner-occupied primary residences. Refinances of existing Home Equity Loans with Credit Union of New Jersey do not qualify for this offer. Homeowners insurance is required. Flood insurance is required where necessary. Initial draw of $5,000 is required; subsequent advances must be at least $500. A fee of $250 will be assessed if the loan is closed within the first 12 months of origination. Outstanding loan amounts of $25,000 or higher within first 90 days of origination qualify for a $250 gift card. Subject to credit approval. Additional terms and conditions apply. Offer may be withdrawn without notice at the discretion of Credit Union of New Jersey.
**
There is no affiliation or relationship between Wayfair and Credit Union of New Jersey.